DMS CardioScan Holter System Software and hardware
Features:
Arrhythmia Template Focus function (or DEMIX): superimposition is done for each template in 12 leads and the different ECG shapes can be easily discriminated and edited. Operator can re-arrange the template category quickly.
Ventricular escape beat analysis function: histogram is made according to the ectopic coupling intervals. Operator can re-arrange the template category quickly.
Atrial prematurity histogram: all the atrial premature beats are classified by their premature rate. Different atrial groups can be differentiated easily.
Heart Rate Turbulence (HRT) function (or VE Chaos) : HRT is the most powerful ECG-related risk predictor for assessing the death risk following myocardial infarction. The predictive value is comparable with that of the LVEF.
Can analyze Holter ECG recordings from both 3 –channel recorders and 12-lead recorders.
Enhanced ST analysis capability: 12-lead ST segment trend scan and comparison, operator can reset the ST markers for any designated time period for re-calculating. Comprehensive 12-lead 3-D ST-trends are presented for easy identification of ischemia locations.
Pacemaker analysis function enables the detailed study of pacemaker performance of various models: VVI, AAI, DDD, etc.
Unique "OSAS" (Obstructive Sleep Apnea Syndrome) analysis function. Other powerful functions are: patient event button auto-correlation, QT dispersion analysis, HRV (Heart Rate Variability) analysis (time domain, frequency domain and Lorenz poincare plot), branch bundle block analysis, atrial-fibrillation and atrial-flutter analysis, FCG CADgram (only for 12-lead recorders.), if 3-channel Holter recorders are used in orthogonal hookup, SAECG (Signal Averaged ECG) and VCG (Vector-cardiograph) can be made.
T wave alterance analysis can be done upon any selected ECG episode.
Longer 12-second ECG strip can be printed for better arrhythmia observation.
Can get the 24-hour ABP monitoring data, create the ECG vs. ABP report.
Operator can transfer Holter report to remote location through Internet as easy as sending emails.
Strong database management capability makes it easy to search patient with combined conditions, can output to or inport from CD. Holter reports can be transferred to the database server computer by using the "ECG Network Information System (ECG-NIS) ", all data can be shared electronically.
Can output ASCII data for further study and programming, support Germany GDT format.
User can translate the software into local language easily, if software is not available in certain languages.
If use A4 printing paper with ECG grid, can print ECG reports faster and use less ink when "Without Grid" is selected from software settings menu.
Can print reports in colors.
DMS took part in world-renowned exhibitions each year, such as hold in Italy, Germany, Dubai, Hong Kong etc…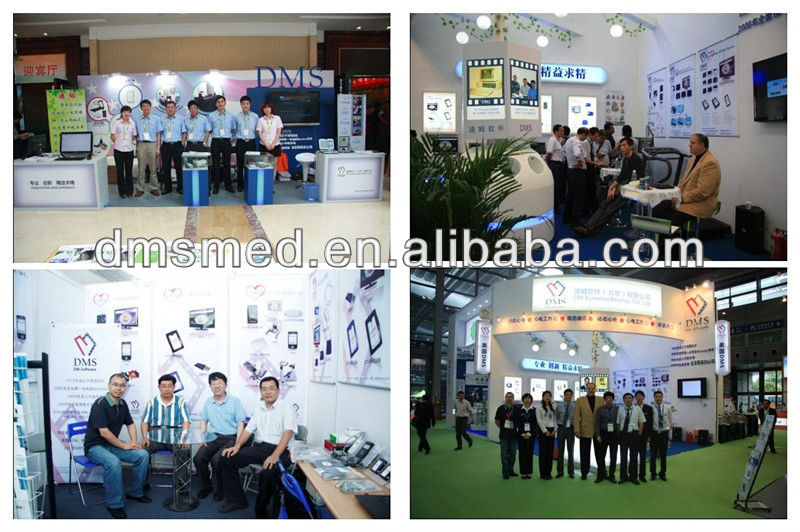 DMS company culture is rich and colorful, we warm welcome you become our partner!
DMS History:
1975 Founded in California USA
1982 Invented the first computerized Holter System
1990 Entered China market
2009 Took over Beijing Meigaoyi Co., Ltd.
2010 Mr. Gene Fang worked with Mr. Delmar Bruce for Holter updated research result.
2011 Actively push forward development of international market and technical field.
The world famous ECG product manufacturer
The biggest supplier of American ECG Service Center
FDA &CE certified
ISO13485 certified